Posts may contain affiliate links. Learn more in our Affiliate Link Policy.
This has been a really great year for HeroQuest fans! So much has happened for the HeroQuest board game. I don't even know where to begin. For starters, my last post about HeroQuest, was a long time ago, before the Hasbro Pulse Campaign even started!
Since then, a lot has happened. HeroQuest arrived, it was played. My kids cried, and goblins died. A new hero was created, and a little later, I'll have a sneak peek at some news that was just leaked!
Haven't played HeroQuest yet!? Get your copy at Amazon.
Mythic Arrives
Let's start with the good. As you can see from the image above, Mythic Tier finally arrived. It was a pretty wild ride. Up here in the frozen wastes of Canada, it seems that we were forgotten about. Reports kept coming in from all over the world for months before it finally arrived. And everyone who backed it that I've spoken to in Canada has had the same experience.
Someday, I'll get around to writing a formal review of the game system, and I do plan on creating a miniature showcase, similar to the ones I created for Altar Quest, its Stretch Goals, and its Expansions.
Now let's get to the good stuff, that's why you're here!
Brand New HeroQuest Content – Commander of the Guardian Knights
Hero Collection, the first new thing to come to the HeroQuest board game in a few decades!
Everyone's excited for new things right? New things are great right!? Wrong! Avalon Hill really dropped the ball with this one. Sure, the product is actually really great, but the demand for it was unexpected! Avalon Hill made this pack a limited time and exclusive item. Once it was gone, which took all of 10 minutes, it was never coming back.
Another issue with the release of the Guardian Knights is that the release date kept on jumping around! No one really knew when it was supposed to be available. I heard several dates from several sources. Luckily, I could get my hands on one. I know some people were not so lucky. Some people even had their pre-orders cancelled because the supply just wasn't there.
Avalon Hill realized their error and issued a formal apology to fans on their blog. Hopefully this mistake is not repeated!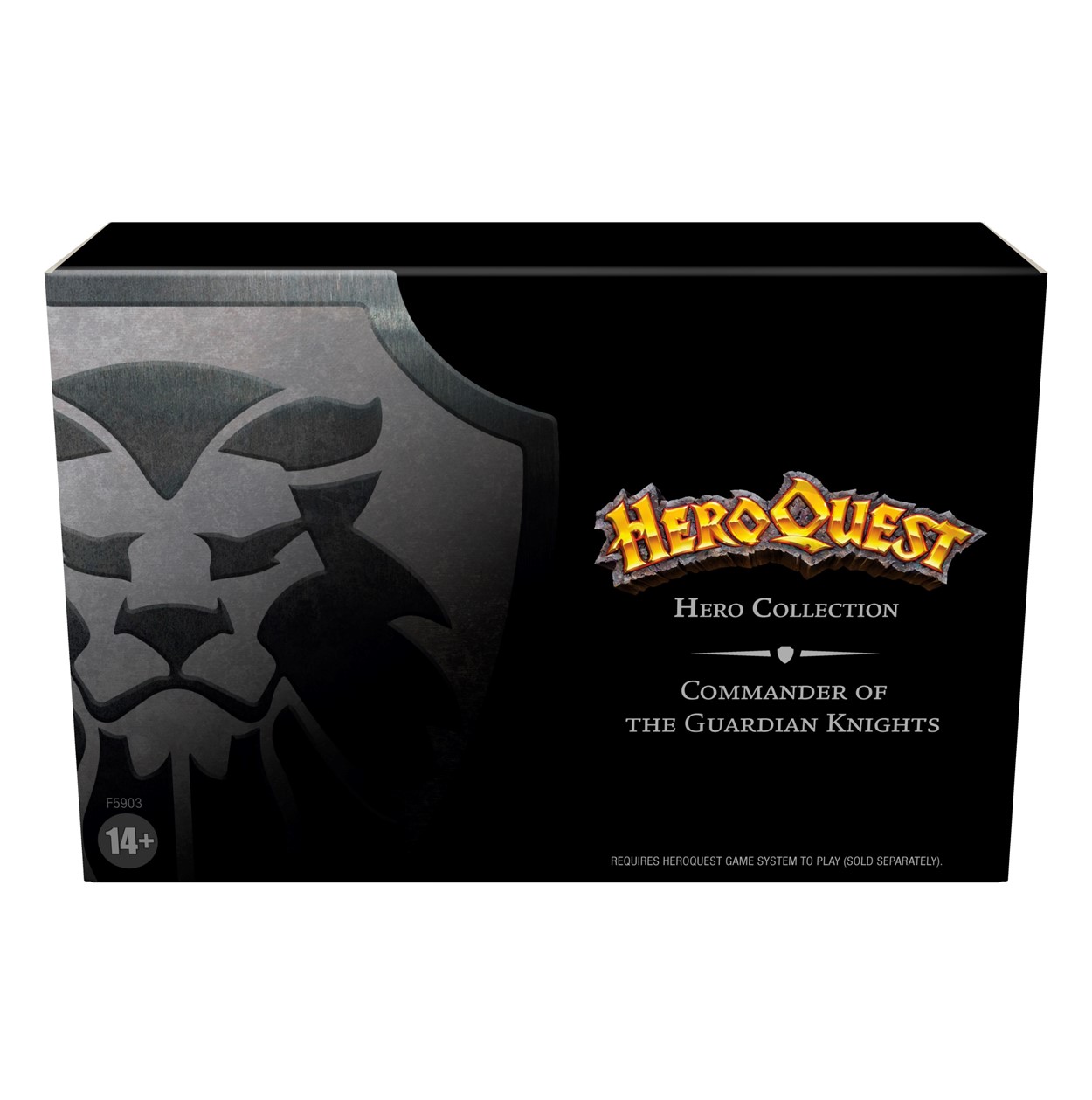 The Frozen Horror Leaked – Can Frozen Water Leak?
The Frozen Horror expansion pack was a favourite of mine. Not because I actually played it, no, the quests were way too hard for my 7-year-old self to get through. They're too hard even for an adult to get through, as you can see on Kurgan's Twitch Channel. It took three tries to get through the first quest! The real reason why I have such good memories of this quest pack, it the Frozen Horror itself. The miniature, it was a huge blue monster. The amount of time I spent making up adventures to slay this thing is crazy.
Pretty early after the release of HeroQuest 2021, they revealed it in the background of a live streamed presentation. There it sat on a shelf, hiding in plain sight. There has been talk and speculation about it ever since.
Things got really exciting when online retailers starting posting listings for it, these listings came with images!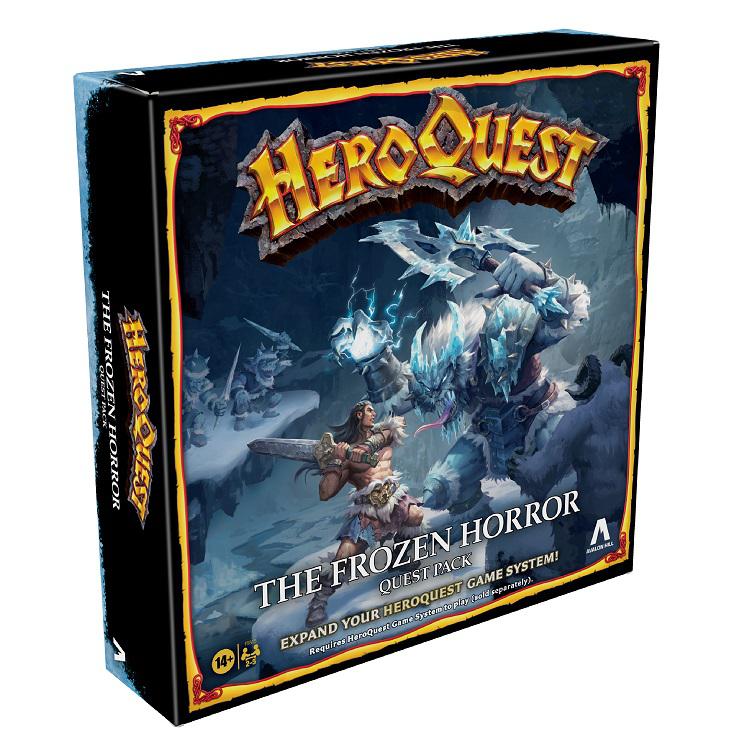 A little while after these pages started leaking, the Frozen Horror appeared at a convention in Italy. Here's some footage from the event:
Some online retailers are taking preorders! (As of this articles publication date)
Breaking News – The Rogue Heir of Elethorn!
Now on to the really exciting news! There is more brand new, never before seen content coming to HeroQuest!
Today we just learned about a new Hero Collection: The Rogue Heir of Elethorn. This new Hero pack will come with 2 new miniatures, and 12 cards: 2 Hero Cards, 6 Skill Cards, and 4 Equipment Cards (2x Dagger and 2x Bandolier).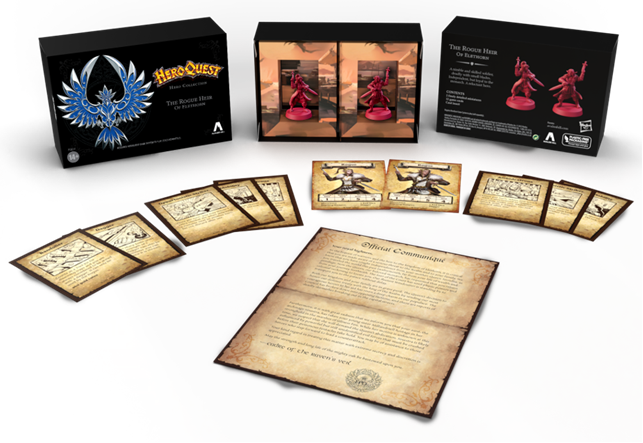 The new hero pack was leaked by a few different retailers, mostly in Canada so far (Yay! maybe we won't be forgotten this time!).
Meeplemart.com has a product page for it, though it looks like a placeholder and may move or change at anytime.
UniversalDistorbution also has a product page, with the same description and images on it.
This listing is the most exciting, from 401Games.ca, it's available to pre-order already!
It looks like Avalon Hill learned from their problems with the Guardian Knights. The YouTuber AmalgamAsh actually had a phone conversation with an insider at Avalon Hill. I would really recommend you check out AmalgamAsh's video on the topic here to find out all the juicy details:
---
Thanks for stopping by my game room, I hope to see you back soon.
Want to learn about similar board games? Checkout my comparison between HeroQuest and Altar Quest.